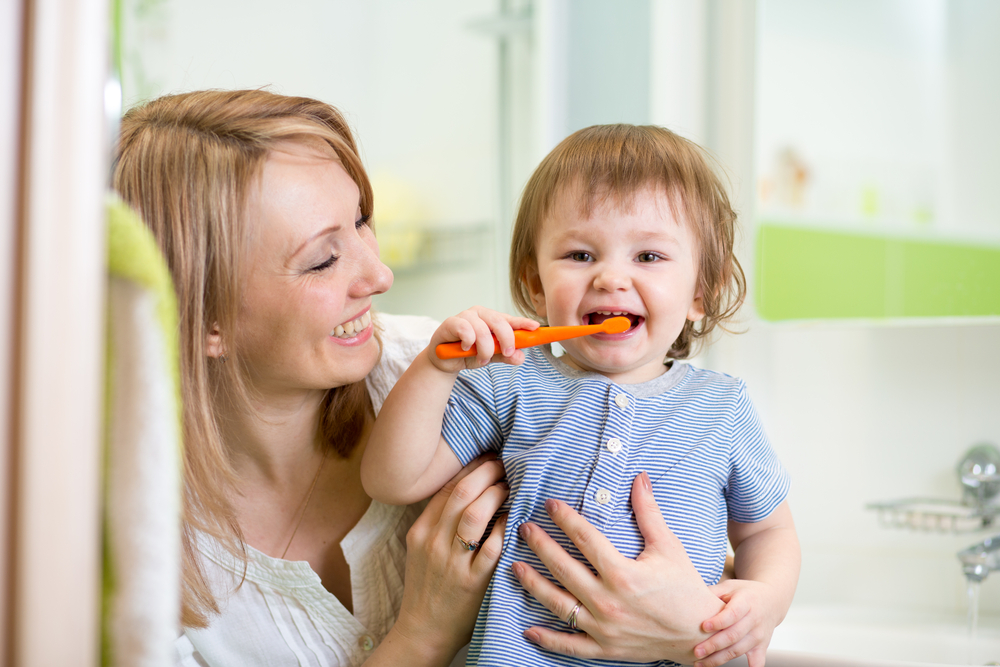 17 Feb

Fantastic Tricks for Making Tooth Brushing for Kids Fun

Every parent has experienced the daunting task of raising excitement for their children when it comes to brushing and flossing teeth! Sometimes, getting your child to brush and floss feels as difficult as getting them to put away their toys- it's never an easy challenge. However, lucky for all you parents out there, it's Children's Dental Health Month which means many articles are floating around that have great tips and tricks to help get your kids engaged in oral care! In fact, we hope this article will help you find the best ways to make brushing a blast for your child.
These adventurous and uncommon brushing techniques will surely get your children enthusiastic about teeth time:
If your child is the creative type, try playing pretend!
Children who enjoy dressing up and playing make-believe will learn to love brushing their teeth if they are to play dentist with you!
Make this activity interactive and encourage them to "show you" as the "dentist" how to properly brush your teeth; maybe even let them brush your teeth! However, be sure to guide them in learning proper brushing techniques too. Take turns being the "dentist" to teach them the correct habits. You'd be surprised how much fun this activity might end up being for you as well!
If your child is goal oriented, try setting goals!
For children who have a competitive nature or like to do their best as all they do, setting goals will be the easiest way to get them interesting in teeth brushing.
Start off by setting little goals and then working up to bigger ones. You could first set the objective of remembering to brush their teeth that day (and do a good job), and then reward them by having them choose their favourite story that night to read. Then you might want to work up to a week of good brushing and reward your child by letting them select the Friday family night activity (like a movie or board game). Reward techniques will associate dental care with responsibility and connecting with others in a positive way.
If your child is the playful type, try making up a game!
When your child sees that any activity can be exciting, as long as you put your mind to it- they'll learn to enjoy anything in life… including brushing their teeth!
Some of the best games to play with your child while brushing teeth is "copy-cat" or is you prefer, "follow the leader". Make your actions that they will copy very silly so that they will want to follow your lead. You will learn to cherish this time, even if it gets a little messy because they'll surely be laughing and giggling at how goofy you are. 
If your child is the artistic/musical type, try brushing to the beat!
Incorporating music into teeth brushing is an excellent way to get children who love to create and move interested in dental hygiene. 
Turn up the tunes and get grooving with your kids as you have a brushing your teeth dance party. Choosing a song that is around two minutes long would be optimal for ensuring they are brushing their teeth long enough. The music will take your child's mind off of an activity that usually feels boring and turn it into something they will now look forward too!
If your child is independent, try offering them choices!
When your toddler starts acting like an independent teenager, the best option so as to not discourage their will is to allow them to have a say in their teeth brushing time!
Provide your child with a few different toothbrushes or toothpaste options that they can choose from. They'll feel grown up and like they are taking responsibility for this important dental activity. However, remember not to give them the option of "how to brush" or "how long to brush". You are still the parent in this relationship, and proper boundaries should be set when letting your children make a choice. 
Which idea do you think will work best for your kids? Are they the creative type? Or are they set on their independence? Let us know in the comments below.
However, if all else fails- at True Dental we love teaching kids how much fun oral hygiene can be and how exciting visiting the dentist is. So, swing by our offices this month for Children's Dental Health Month and let us help you find the best options to encourage your child's dental habits!
Contact us today to book an appointment.