07 Aug

Sweet and Dentist Approved Treats For Summer

True Dental Sweet (and Dentist Approved Treats) for Summer

Indulging in some tasty, cool treats is almost a necessity when you live among our Okanagan desert climate. Summers can be scolding and staying hydrated is a must. However, consuming frozen sugary delicacies such as ice cream and artificial popsicles is not doing your teeth or your oral health any favours. Luckily, there are some less harmful and equally delicious DIY options you can enjoy.

DIY Fruit Popsicles

Get your popsicle molds washed and prepare to be amazed! Finely slice whatever citrus fruits and berries you have on hand. Blueberries, Strawberries, Kiwi, Raspberries, Blackberries, Pink Grapefruit, Oranges, Limes, Lemons…the options are endless. Use coconut water as your base or experiment with some pure fruit juices until you discover the flavours your family craves!

Here are some great recipes for you to try at home! http://www.superhealthykids.com/recipe-category/popsicles-and-frozen-treats/
Berry Shakes
Take fresh or frozen berries, plain or flavoured yogurt, some milk or almond milk and blend with ice to make the ultimate smooth and creamy nutritious shake. Add some vanilla, plain or fruit flavoured protein powder for extra energy and texture. Calcium is a vital contributor to healthy, strong teeth and a radiant smile. Berries are rich of vitamin C, antioxidants, flavonoids, potassium, magnesium, copper and fiber. Your entire body will radiate once you start substituting homemade healthy options in place of of your current drive through favourites!
Make smoothies your kids won't be able to get enough of! http://www.rachaelray.com/2014/05/super-simple-kid-friendly-smoothies
Homemade Pureed Fruit Popsicles
Break out your blender, food processor or any magic bullet like device. This is a heartier popsicle full of antioxidants and fiber. Liquefying your fruit into a puree will enable you to pour your molds with ease. Great fruit choices include: Mangoes, Watermelon, Cantaloupe, Honeydew, Pineapple, Pears, Apples, Blueberries and Strawberries.
Fructose Alert
The caring team at True Dental believes in educating our patients. Please understand that fructose or fruit sugar can still be harmful to your teeth and we recommend getting into the habit of having a swish and brushing your teeth after consuming sweet goodies of any kind. Prevent the sugar bugs from sticking by practicing positive, protective and preventative oral hygiene.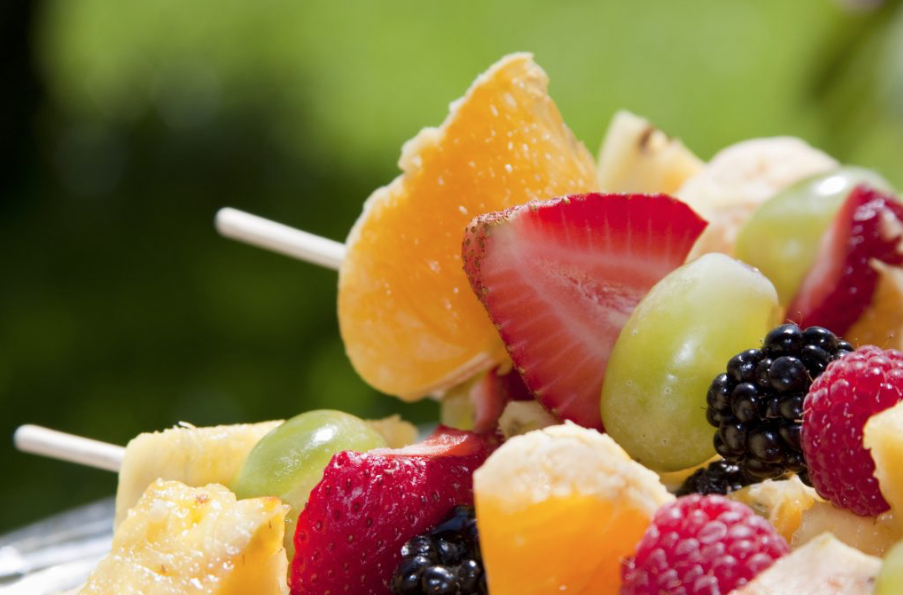 Fruit Kabobs A Healthy Appetizer or Dessert
Fruit kabobs are a nutritious and easy snack to prepare. Get the kids involved and experiment with patterns, colours and flavours. These cool treats are perfect for patio suppers, picnics on the beach and enjoying on the deck after work while supper is being prepared. Conversely, they make a great breakfast on the go for those early mornings related to vacation travel. A yogurt fruit dip is an excellent and easy addition to your fruit kabob platter.
Refreshing Flavoured Waters
Staying hydrated is easier when you incorporate flavoured waters into your refrigerator. Make a pitcher of ginger peach, lime and mint or cucumber-melon-berry to be within an arm's reach. Perfect to make at work in the staff room, have on hand in your camper, or fill your water bottle with; flavoured waters are full of vitamins, minerals and antioxidants.
Don't forget, staying hydrated can quench sweet cravings and help you feel more satisfied. Let your sugar cravings and your teeth relax by drinking some flavoured water the next time you want to reach for dessert. You might be pleasantly surprised to find your cravings diminish prior to finishing your glass of delicious refreshment!
Satisfy your sweet tooth by adding some honey if needed or spice things up with some cinnamon and a dash of cayenne pepper. Have fun experimenting with tasty flavour combinations and easily drink more hydrating H20 during our sensational summer season. We look forward to seeing you at your next dentist appointment and hearing about your favourite healthy smile recipes.
For some new ideas on how to flavour your water, try these ones out! http://feedingmykid.com/article/flavored-water-recipes/