16 Dec

iTero Scanner 3D Gag-Free Technology Delivers Accuracy

True Dental believes in continually upgrading our education and our technology to deliver dynamic dental experiences for you and your loved ones. Our doctors have been busy training on our latest office upgrade, the iTero Scanner.

Created by the innovative team behind Invisalign clear aligners, this revolutionary digital scanner is a leader within the industry. Saving clients time and offering superior comfort, we can't wait to show you where your new smile begins.
Accuracy & Precision 101
Let's face it…getting the right impressions the first time is ideal for everyone! If you have gagged on mouthfuls of impression materials in the past, (or had to endure a do-over, you are not alone). This astounding technology captures 6000 images per second! We can create a 3-dimensional image of your smile in mere moments, thanks to our new iTero scanner.
Quick & Comfortable
Did you know that many clients put off having a custom nightguard for Bruxism or a sports mouthguard made because they cannot stand traditional goopy impressions? Stretching your smile over metal templates filled with goop, biting down and holding momentarily isn't for everyone. We understand. Now, you won't even be asked to try! We can work together to get you fitted for your nightguard or mouthguard and we will send it to a lab to get it made.
See Your New Smile Before Starting Treatment With the Invisalign Outcome Simulator
Maybe one of the best features of the iTero Scanner is the ability for us to show clients their positive end result. Having a vision of your final smile before starting your orthodontic treatment is extremely rewarding.
And trust us, we get just as excited seeing you get excited about it! Having a picture of what your smile is going to transform into after treatment provides excellent motivation to wear your Invisalign clear aligners or traditional braces for their duration while taking care of your grin in the meantime.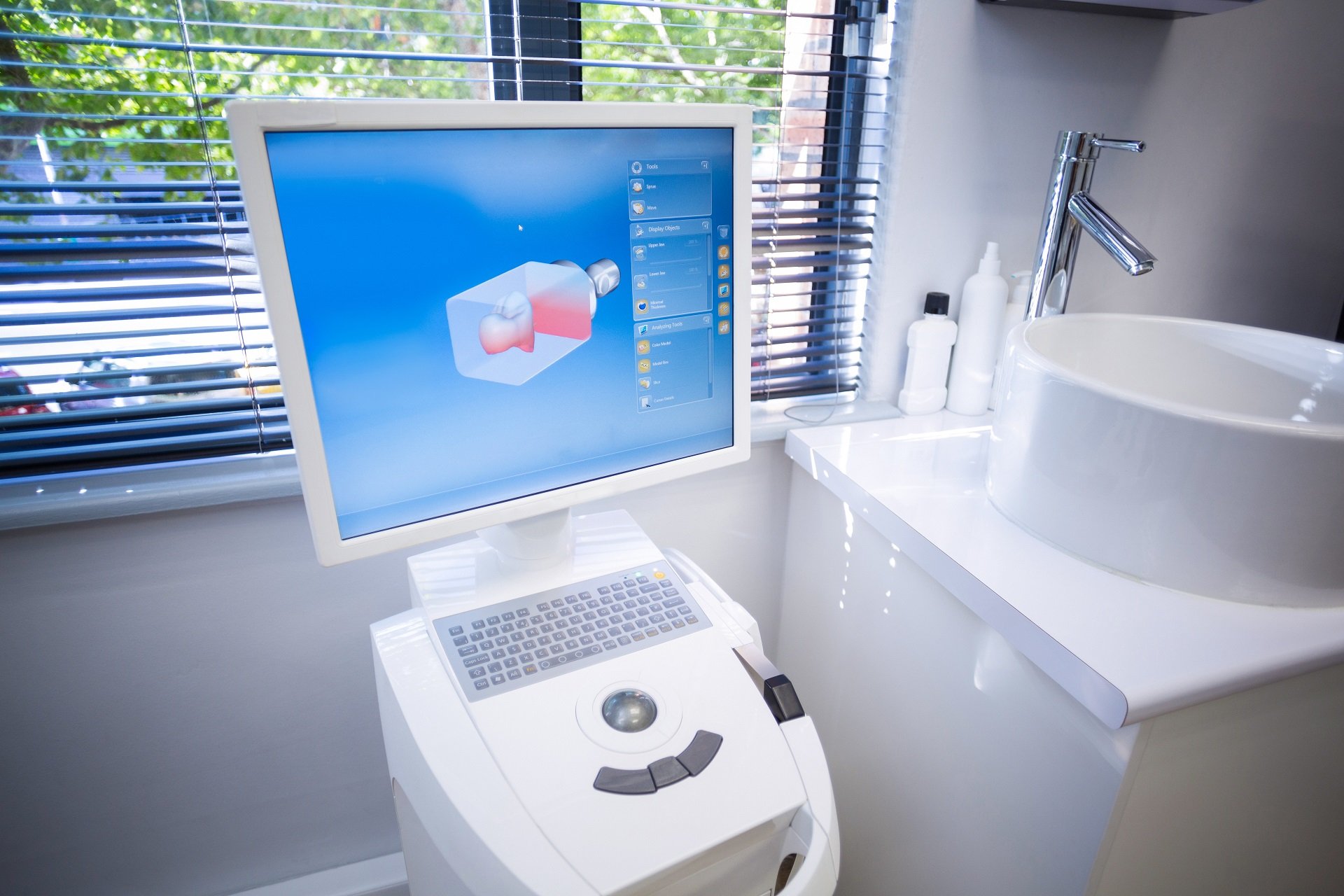 Updated Progress At Every Appointment
Discover if you are on track with your ortho at each appointment with the Invisalign Progress Assessment. While it may sound daunting to have to wear your orthodontic clear aligners for up to 23 hours a day, you will be much more likely to follow your treatment plan once the results begin happening.
Start Your 2020 Smile Today!
We invite you to join us for a consultation to discover if Invisalign or orthodontic therapy is right for you. It is never too late to improve your smile and your oral health and well-being. There is no magic due date for having straight, healthy teeth. More clients are undergoing ortho later in life.
There are numerous reasons to straighten your smile far beyond the aesthetics such as:
Straight teeth are easier to keep clean.
Your oral health affects your entire body.
Boosted self-confidence.
Protecting your enamel.
Reducing TMD, TMJ and jaw, neck, face pain and headaches.
Lessen chances of gingivitis and periodontal disease.
Help to eliminate bad breath and many more.
Not Everyone Is A Candidate For Invisalign Clear Aligners
Of course, to determine if Invisalign will be the best route to straighten your pearly whites, we invite you to visit True Dental for a consultation. Our friendly and professional team is committed to presenting you with the facts you need to succeed.
Some clients feel that removable trays will not suit their lifestyle. Ideally, your Invisalign clear aligners are worn for up to 23 hours a day and only removed during meal times and when you are brushing, swishing and flossing.
Check Out the iTero Scanner At True Dental Today!
Delivering the best dental technology reduces your time in the chair, saving you time and money. Come and see what your smile could be!
Start 2020 off with a gift to yourself and enjoy the benefits of a healthier, happier smile!
We can't wait to get started. Contact us today and let us help you love your grin!